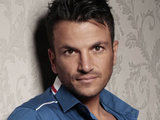 Peter Andre
has admitted that he has grown to "love" Amy Childs and Kerry Katona after initially distancing himself from them.
Writing in his
New
magazine column, Andre explained that he had decided not to spend much time with the pair when they were
signed by his manager Claire Powell from Can Associates
.
"When my manager Claire signed up Amy and Kerry, I was quite distanced from them - not in a horrible way, just because I wanted to concentrate on doing my own thing," he said. "But the more I get to know them the more I love them.
"They are hilarious and I like the fact that I'm the only boy in the gang."
Andre quipped: "I've banned Claire from signing up any other male popstars so it can stay that way!"
Commenting on a recent night out with Childs and Katona in Dubai, he continued: "We had a few drinks and a laugh and I took some hilarious pictures on my iPhone that looked like something from that film
The Hangover
.
"The next day, I looked through them and was like, 'What the hell were we doing in that one?!'."
> Peter Andre: 'I'm the happiest I've ever been'