Imogen Thomas
has insisted that she "never" blackmailed the footballer who allegedly had an affair with her.
The former Big Brother star is prevented from revealing the name of her former lover after he took out a super-injunction protecting his identity. Thomas's
most recent attempt to overturn the injunction
was quashed yesterday by Mr Justice Eady.
Speaking afterward,
she denied suggestions that she had attempted to blackmail the man
in return for her silence about their
alleged six-month affair
.
Speaking on ITV1's
This Morning
, Thomas told presenters Phillip Schofield and Jenni Flaconer that she did not expect to be successful in her attempts.
"I went yesterday to hear what the judge had to say about me," she said. "Just to put my point across because I've seen the statements beforehand and I wanted to go there to see what it was all about. I was for the injection to go ahead all along - I've never fought the injunction.
"Simply because I wanted to protect him and his family and that is the reason why I didn't fight it. That's why I've not given my statement yet. No-one's heard my side of the story yet."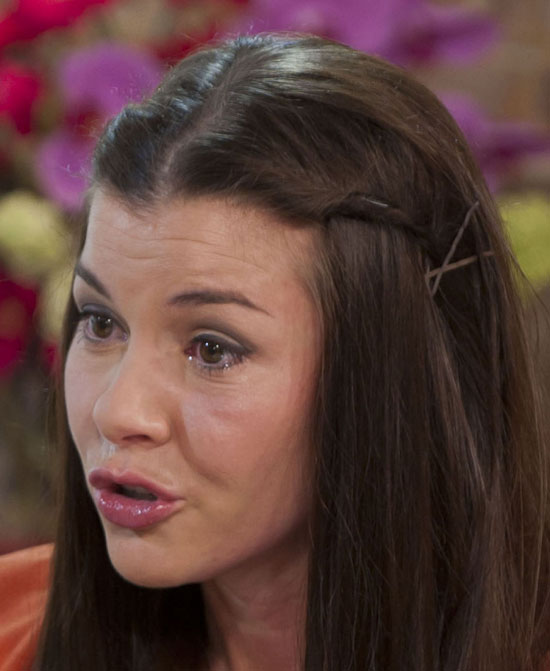 Asked if her intentions were to go to a newspaper with details of her affair, she hit back: "I was never going to go to the papers with this story. In the statement that's in today's papers, it says that the judge said that I have set up the footballer that I was seeing. It's not true. Today
The Sun
have categorically said in the paper that I had no involvement with the story so it's untrue. So I just want to point that now because I'm being accused of that as well..."
On the "serious allegation" made about her, the Welsh model insisted: "I've never asked for anything the whole time I was with him."
Prompted by Schofield to explain further if she had ever asked for money or made "a move that may be confused" as blackmail, Thomas responded: "No. Not at all. This is what I'm saying. There's no evidence of this. There's nothing there and like I said I've not given my statement. I want to say the truth about what happened between us - not to the papers, I want to say in court what happened and for me to defend myself because for me now, I mean I see blackmail as being a criminal... and I've come out of it as... I mean it just gets worse for me.
"I came of here a couple of weeks ago, just saying how sorry I am about having the affair. I'm still sorry that I had an affair - I know what I did was wrong and I've put my hands up. I've done wrong. But today I've come on here to defend my name to show that I'm not a blackmailer. It's wrong. Even the judge says that he has no evidence of this and it could be misleading."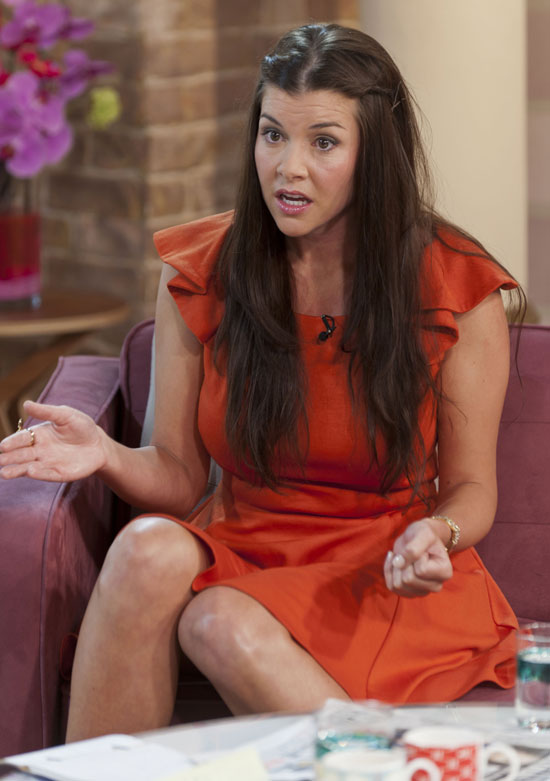 The 28-year-old added: "I want this super-injunction off my head for a start. I don't want to go on living my life with this massive super-injunction on me. I'm scared to talk to my friends, my family about this man who I was in love with.
"I want to clear my name. I want it to go to trial, I want to stand there and swear on the Bible and say the absolute truth. I had no intention of going to the paper.
The Sun
have admitted that today, I wanted that to come out ages ago. It's in the small print, but it's the truth. I had no involvement in this. I warned him, if I hadn't have warned him he would've been all over the newspapers - I was looking out for him."
Concluding the interview, which Schofield confirmed was pre-recorded in case the footballer's identity was revealed, Thomas reiterated that she wants the case to go to trial so that her name can be cleared.
"Yes, I just want it to go to trial and I want it to come out in court that this didn't happen," she said. "I will take it all the way. I haven't given my statement yet, and it says there we only met three times - that's untrue. Very untrue. I'm not a liar."
> Imogen Thomas: 'I've been thrown to the lions'