7
Showbiz News
Richard and Judy: 'Sex is bedrock of relationship'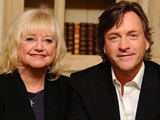 Richard Madeley
has said that sex is the secret of the success of his and Judy Finnigan's marriage.
The TV couple, who hosted ITV's
This Morning
together, married in 1986.
"Sex is the ­bedrock of our relationship," Madeley told
The Mirror
. "It's better to ­be completely ­unembarrassed about sex.
"There may be ­periods when ­we are not well or we feel stressed out, but we never let that lead to nervousness or any fumbling in the bedroom.
He continued: "You have to be relaxed about sex and I can't say enough how ­important it is in a marriage. Some people say a physical relationship isn't ­important. But I don't agree. I think not having sex is a rock on which many ­marriages founder."
Finnigan agreed, adding: "Yes, you have to feel passionately about a person and fortunately I still feel that way about ­Richard."
The duo also took the opportunity to hit back at any suggestions that there has been trouble in their marriage.
"Our marriage is incredibly strong, and always has been," 63-year-old Finnigan said. "We don't have to work at it. That sounds smug, but it's not. We have rows like everybody else but we are committed to each other."
Madeley slammed "ludicrous" reports that the pair were to divorce: "It would be a good story if Judy or I were having ­an affair and we call it 'Serpent in Paradise' syndrome.
"People don't want to believe that it is possible to be happily married. But I don't give a fart what they think."
> Richard Madeley: 'Using injunctions is wrong'
> Richard and Judy rule out TV return