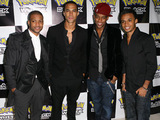 JLS star Oritsé Williams has revealed that Craig David recently gave the band tips on how to pull women.
The
'One Shot'
singers met up with David while shooting the video for their new single 'She Makes Me Wanna' in Miami.
Williams told
The Sun
: "We went out for dinner with him. Then we went to his flat to drink a few tequilas. There are a lot of pictures of girls on his walls - all over the house.
"We talked about women loads. He said, 'Just stick with me. I'll take you to all the good places where there are loads of girls'. We told him he's got to use JLS condoms - we gave him four boxes."
He added: "I took my condoms to Miami and got through a box. When I go on holiday I always pack my condoms with my suntan lotion, toothbrush and toothpaste."
JLS recently revealed that
work on their new album is going "really well"
.