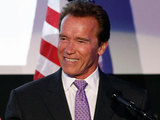 Arnold Schwarzenegger
's eldest daughter Katherine has called on the press to respect her family's privacy in the wake of
her father's announcement
that he fathered a
secret love child
.
Following the former California governor's public admission of infidelity, Katherine posted a message on her official Twitter account indicating that she was focused on the healing process.
"This is definitely not easy but I appreciate your love and support as i begin to heal and move forward in life.I will always love my family (sic)," she wrote last Tuesday.
The 21-year-old author has now returned to Twitter to suggest that her family need time in order to process the trauma of her father's actions.
"As my healing begins after this crazy week I ask for privacy! This is only the business of my family and please respect that," she requested.
Hours later, Katherine retweeted a more optimistic message from motivational website 'The Notebook of Love': "The day you decide what you deserve is the day you get what you deserve."
It was previously reported that
Katherine and her three teenage siblings are "banding together" in order to offer support to their mother Maria Shriver
.
Actress Jane Seymour has also claimed that
Schwarzenegger fathered other children out of wedlock
, saying: "I heard about two more children. I met someone who knows him well."
> Maria Shriver 'refuses to hide' from scandal
> Jamie Lee Curtis: 'We're damaging celeb kids'