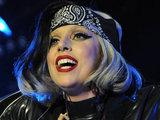 Lady GaGa
had soup delivered to
The View
's Whoopi Goldberg after the host fell ill earlier this week.
While appearing on the daytime series this week
to promote her new album
Born This Way
, GaGa learned that Goldberg had taken the day off because she was feeling under the weather.
The
'Judas'
popstar sent well-wishes to the ailing Goldberg by having chicken soup from a local restaurant sent to the presenter's home.
Goldberg thanked GaGa for the gesture when she returned to
The View
on Wednesday, teasing that the soup had been instrumental in her speedy recovery.
"I was home sweating and trying [to feel better]. And a doorbell rang and a man delivered some chicken soup to me. And I opened the card and it was from Lady GaGa," she revealed. "It was so sweet. It was [so] good. I'm glad she did [send it]."
Born This Way is expected to sell between 800,000 and 850,000 copies
, it has been reported.
> Lady GaGa, Beyoncé, J.Lo perform on 'American Idol' finale: Pictures
> Lady GaGa "excited" over Adele success
Watch Lady GaGa's interview on
The View
below: