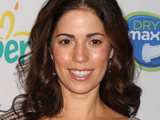 Ana Ortiz
has revealed that she and husband Noah Lebenzon are expecting their second child.
The former
Ugly Betty
actress announced to
Latina
magazine that she will give birth to a son later this year.
"We know it's a boy! [We] are trying to come up with some names that we can agree on," she told the publication.
"It has to be Spanish, but something non-speakers can pronounce without mauling. Suggestions? I'm open."
The couple are already parents to a
23-month-old daughter, Paloma Louise
.
Ortiz, who recently
signed on for a three-episode story arc on Hung, added that the pregnancy would not be written into the show and that they are instead "shooting around it".