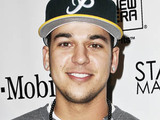 Rob Kardashian
has been flirting with Rihanna on Twitter.
The reality television star, whose sister
Kim recently announced her engagement to Kris Humphries
, used the social microblogging website to hint that Rihanna should be his date to the wedding.
Rihanna initially tweeted about her night in, writing: "Ugh! DUH!!! Popcorn and remote in hand," to which Rob replied: "I can make this right here happen."
The singer wrote back to him: "It's past your bedtime," and he answered: "Goodness. Child please. Hush lil baby don't say a word." He later continued the flirt, writing: "You can put me to bed," around the same time he wrote: "I need a date for my Sis @KimKardashian WEDDING! (sic)"
Rob recently admitted that he is not sure if Kim will actually make it down the aisle with Humphries
. He said: "I just don't feel confident because Kim has... been through a lot of relationships and she always gets hurt or never finds the right dude."
A friend of Kim, however, has said that the wedding is going ahead and
the star plans to make it more "massive" than the royal wedding
. At the weekend,
Kim also revealed that she hopes to start a family with Humphries this year
.
> Read our latest Showbiz news