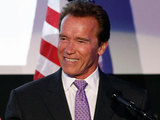 Arnold Schwarzenegger
has reportedly hired attorney Bob Kaufman to represent him.
According to
TMZ
, Kaufman will handle all legal matters during Schwarzenegger's upcoming divorce from estranged wife Maria Shriver.
Kaufman has already entered discussions with
Shriver's lawyer Laura Wasser
and is "moving forward" with negotiations surrounding the split, the website also reports.
Schwarzenegger and Shriver
announced their separation earlier this month
after 25 years of marriage following the revelation that the actor and former California governor
had fathered a secret love child with a former housekeeper
.
It was recently
suggested that Shriver could receive a $254 million (£155m) settlement
as part of her divorce from Schwarzenegger.
Schwarzenegger may also reportedly
be sued by Rogelio Baena, the ex-husband of Mildred Baena, with whom he fathered the love child
.