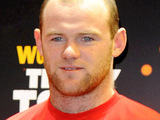 Wayne Rooney
has confirmed that he has had a hair transplant operation at a London clinic to help improve his receding hairline.
Rooney revealed the news on Twitter by announcing: "Just to confirm to all my followers I have had a hair transplant. I was going bald at 25 why not."
The Manchester United striker said that he was "delighted" with the results, and that he had the treatment at a clinic on London's Harley Street.
Rooney also asked his followers for a decent hair gel and that his head was "still a bit bruised and swollen".
Coleen Rooney also confirmed the news by tweeting: "Hiya!! Yes waynes had his hair done! His own decision not me asking him, like alot are saying!! Pleased for him and it will look great. [sic]"
Rooney's teammate Rio Ferdinand joked: "Just don't go down the wearing a alice band route!! You'll be doing head&shoulders adverts soon! Hope its gone ok Good luck lad."
Michael Owen had previously teased Rooney about his lack of hair, tweeting in May: "How old are you in that photo? Your face looks like a 12 year olds but your hair looks like a 60 year old!"
Other stars that have admitted to having hair transplants include sportsmen Graham Gooch and Austin Healy, and
Monty Python legend John Cleese
.
Wayne Rooney has admitted that footballers
must expect intrusion from the press
.