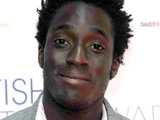 Blue Peter
presenter
Andy Akinwolere
has set two world records after a three-and-a-half hour swim across one of the world's deepest stretches of ocean.
The 28-year-old became the first person to swim across the Palau Trench, a five-mile 8,000-metre depression in the Indian Ocean, in what was also verified as the deepest location for an open water swim.
Akinwolere, who joined the BBC programme in June 2006, had a phobia of open water prior to the journey and had been unable to swim an entire length until just a few weeks ago.
He said: "It's an absolute triumph to have completed this swim, after having had just over ten weeks of swimming training I still cannot believe how far I've come.
"I could not swim a length before this and now I have swum over one of the deepest parts of the world. All the hours of gruelling training will be worth it if my challenge inspires more children from ethnic minorities to learn to swim."
Akinwolere's
Blue Peter
co-presenter Helen Skelton previously broke the records for the longest solo journey by kayak and the longest distance in a kayak in 24 hours by a woman, with a 2,000 mile expedition up the Amazon river in 2010.
This February, she also became
the first person to high-wire walk between the chimneys of Battersea Power Station
.