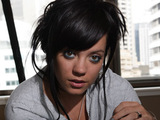 Lily Allen
has invited a 12-year-old boy to DJ at her wedding this Saturday.
The 'Not Fair' star
will marry Sam Cooper in Gloucestershire
before celebrating with 150 guests. According to
The Sun
, Ted Lavender will play a selection of ska and reggae tunes during the party.
Allen was said to be blown away when she first heard a demo tape from Lavender - who performs under the name Ted at the Controls.
"I do a lot of practising in my bedroom and I don't get nervous, except at the beginning," he told the paper. "But mostly it's just really exciting when the crowd gets going. Lily's really nice and I'm looking forward to really rocking her party."
Lavender's father Andy - whose eldest daughter Sarah is Allen's half-sister - said: "Lily wanted Ted to play.
"I've got quite a large vinyl collection and Ted really enjoys playing my records. He saved up to buy his own decks and spends every hour he can on them."
He added: "He's a very quiet, unassuming person, but once he's on the decks you can't get him off."
However, Ted - who is also playing at the Isle of Wight festival this weekend - admitted that he is not seeking a career in music. "I want to be an antiques dealer and I'll probably do DJing at the weekends," he said.
Allen
recently claimed that while she does not "want to sing",
she does want to maintain her fame so that she can continue to enjoy the lifestyle she is used to.
> Lily Allen blasts "d***" for wedding date leak
Watch the video for Lily Allen's 'Smile' below: