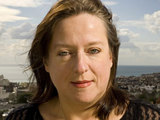 Julie Burchill
has hit out at the "pollution" of the entertainment industry by the children of famous people.
In a
column for MyDaily
, the writer claimed that the "ever-burgeoning SADS (Sons And Daughters)" of stars were "just as parasitic and bogus as the Greater Spotted WAG (Wives and Girlfriends)".
Burchill said: "Be they the Good (Daisy Lowe), the Bad (Otis Ferry) or the downright ugly (Kelly Osborne) they use their sharp elbows and blunt instrument brains to wiggle, worm and wail their way into the national consciousness.
"So prevalent is their pollution of the current entertainment industry that when the occasional outsider such as Alexa Chung or Cat Deeley actually makes it to the inner circle, a sort of hysteria surrounds the pretty upstart, mild though her gifts may be. This is because SHE MADE IT PAST THE NAFFIA! - the Name Mafia."
She added: "SADs are part of the reason why British showbiz, so lively and creative from the 1960s to the 90s inclusive, is currently so limp and dreary - that and the fact that so many actors and musicians are now public school ponces and princesses."
Burchill has recently engaged in a
war of words with Lily Allen
, the pop singer and fashion designer daughter of actor Keith Allen.
In a column about Cheryl Cole,
Burchill described Lily
as an "overprivileged crybaby" and "public school tool".