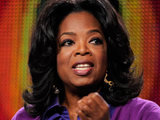 Oprah Winfrey
's best friend Gayle King has revealed that the talkshow host is currently on vacation in London.
The presenter
recently wrapped work on The Oprah Winfrey Show
after 25 years, with
13.3m viewers tuning in
to watch her reflect on her past in a special farewell episode.
King has now revealed that Winfrey plans to devote her time fully to the OWN cable network, but has first taken a "relaxing" trip to England.
"[Oprah's] on vacation right now," King told
People
. "She's taking a much-deserved, well-deserved break."
King quipped that she would also like to take a holiday, but is too busy working on her SiriusXM radio programme and her OWN chatshow.
Katie Couric, who has
signed to host an upcoming series for ABC
, said this week that
no-one will ever be able to replace Winfrey as the premiere icon of daytime television
.
> Piers Morgan: 'Oprah, Sheen favourite interviews'
> Parks and Rec star 'wants Oprah guest spot'
Watch clips from Oprah Winfrey's final show below: