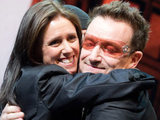 Bono has confessed that he misses working with former director
Julie Taymor
on
Spider-Man: Turn Off the Dark
.
While speaking at the 92nd Street YMCA on Monday night, the U2 frontman said that while Taymor's exit from the production was necessary to improve its chances for success, she still remains a very central part of
Turn Off The Dark
's heart.
Bono told
Fox News
: "I miss her. I think she's an extraordinary artist but we had to make it work… We're very serious about what we do. We feel it is our duty to her to make sure it is a success."
Taymor
resigned from her post as director of Turn Off The Dark in March
following repeated troubles for the show, including
numerous cast injuries
and
negative reviews
.
She was
replaced by new director Philip William McKinley
and the show
closed its doors for several months in order to implement several changes to the storyline
.
Bono also told crowds that while he believes that
Turn Off The Dark
can still improve, he has high hopes for the production, adding: "There is still a little ways to go. I would say we are 10% off. I think that in the next weeks and months there will be another shift."