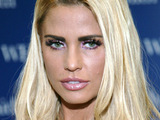 Katie Price
has denied claims that she has become engaged to boyfriend Leandro Penna.
Price was spotted
wearing a diamond band on her wedding finger
at a book signing last month, sparking rumours that she will marry the Argentinian model.
A spokesperson for
Price has already explained that
there is "no engagement" and claimed that "the ring just happened to fit that finger".
Price has now added on Twitter: "I'm NOT engaged. (sic)
"If you look at old pics and new I ALWAYS wear rings on wedding finger and same on other hand and always will."
Price has previously been married to singer Peter Andre and cage fighter Alex Reid. She
started dating Penna in March
and Penna got the name "Katie" tattooed on his arm last month.
> Katie Price recording 'attracts small crowd'
> Katie Price wants to set up meet with Harvey, Frankie Boyle