4
Showbiz News
Claudia Winkleman: 'I'm a rubbish celebrity'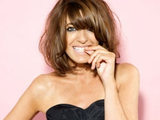 Claudia Winkleman
has accepted that she is "a rubbish celebrity".
The
King Of...
host revealed that she never had any desire to become famous and continues to be in awe of even the most minor stars.
"I'm rubbish at being a celebrity," she told
The Mail On Sunday
. "That's mainly because I don't want to be one. I don't know anyone remotely famous. I'd sooner be at home making cheese on toast than making small talk with Bryan Ferry at some posh do.
"I'd love to pretend that Bill Oddie and Sean Connery are always popping round to raid my larder, but they've never been near my front door."
She added: "I'm easily star-struck. I once spotted Christopher Biggins at the fish counter in my local supermarket. I was so excited I could hardly breathe. I had to restrain myself from running up the aisle and licking his face.
"The reception at BBC2 is a good place to spot famous people. The last time I popped my head around the door I saw Rod Stewart, Jeremy Irons and Su Pollard. I thought to myself, 'Girl, you are living the dream'."
The
former It Takes Two host
also expressed doubts over her capability as a presenter, arguing that she had the potential to mess up an 'idiot-proof' job.
"Any idiot could do my job - it's not nuclear physics. To be a TV presenter all you have to do is dye your skin a walnut colour, use an entire eyeliner stick on each eye and try not to fall over while you're reading from an autocue.
"You could argue that the hard part is making it look easy. But I don't even succeed at that. I make it look completely terrifying. I'm sure the only reason people employ me is that they like the sense of jeopardy I bring to live television."
Winkleman recently
slammed her King Of... programme as "absolutely the s**ttest show you will ever see"
.