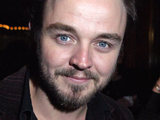 Matthew Newton
has reportedly not yet visited his father Bert in hospital.
Australian television personality Bert, who is currently appearing in the stage show of
Wicked
, has
been in
Melbourne's Epworth Hospital with pneumonia since the weekend.
Underbelly
actor Matthew, who has
spent months receiving treatment in a Sydney psychiatric unit
after
attacking ex-girlfriend Rachael Taylor
last year, has not yet been to see his father,
The Daily Telegraph
claims.
His sister Lauren and her husband Matt Welsh have reportedly spent a lot of time at the hospital.
When
Matthew was hospitalised in March with severe stomach pains
, Bert did not visit him, igniting rumours of a rift between the two.
After
Matthew first went into rehab
, Bert said: "We are with him and we hope for the best, and I have got a feeling that is going to be what happens. He is our son, we love him."
The 72-year-old later described his son as a "train wreck"
, adding: "I do love him and I do support him, but I don't support or condone any of the things that have happened. We should have seen the signs... but we didn't."
Lauren's 2-year-old daughter Eva is thought to be the carrier of the viral disease that Newton is receiving treatment for, but his wife Patti has said that he is "pretty stable and in high spirits".