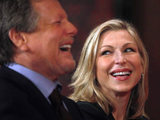 Ryan O'Neal
has claimed that he is heartbroken over his son Redmond's struggle to overcome drug addiction.
Redmond was arrested in 2010 for
possessing narcotics
, but is believed to be sober since
completing a stint in rehab
last summer.
Ryan has now said that his son feels tremendous "shame" for abusing drugs as his mother
Farrah Fawcett lost her battle with cancer
.
"Farrah was a very strong presence in my life. She permeated my mind and my being. She had that kind of hold on me," Ryan told
CNN
host Piers Morgan. "I had somebody that I loved. I have a son who struggles with his life because he's tempted to join her."
The Oscar-nominated
Love Story
actor continued: "[Redmond is] 26 and he's tempted to go because he misses her so much and he feels that he shamed himself so much. It's tricky, you know. It's crazy.
"I say to him, 'That's not what she wants. She wants you to have a wonderful life - live it for her. She doesn't want you to join her'. And he agrees, but I'm not sure he does - he just says he agrees. None of it has been resolved."
Ryan also claimed that
his often-contentious relationship with daughter Tatum might have caused Fawcett to develop cancer
.
> Tatum O'Neal: 'I forgive my father all the time'
> Fawcett swimsuit for Smithsonian exhibit
Watch Ryan O'Neal discuss his troubled relationship with his children below: