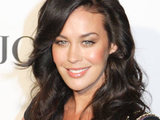 Megan Gale
is still dating Shaun Hampson, it has been reported.
The Australian supermodel, who was
first romantically linked to Carlton footballer Hampson
in January this year, was spotted driving him to Melbourne's Epworth Hospital to have scans on his injured knee earlier this week.
The alleged couple were then photographed by
The Daily Telegraph
picking up takeaway food at burger joint Andrew's Hamburgers in Albert Park.
Gale split from comedian Andy Lee
last year after four years together, but
they later insisted that they still "get along great"
.
When the Hampson rumours first surfaced,
Gale said that she did not understand how she "could be having an affair with someone [she's] actually never met"
. She also said: "Things do tend to spread a bit quicker than they used to. But what can you do about it?"
The 35-year-old recently made her debut as the new host of
Project Runway
, but has been
hit by rumours of "nothing but the best" demands
on set.
She later said that she is not a diva
but a "perfectionist".
Gale later accused paparazzi photographers of "harassment"
when they tried to take her pictures as she left a Sydney hotel.