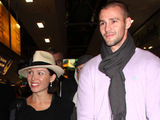 Kris Smith
has revealed that he is no longer prepared to talk publicly about his relationship with Dannii Minogue.
The model and former rugby player, who
has 11-month-old son Ethan
with television personality and singer Minogue, said that things he has previously said about their alleged troubles have been taken out of context.
The couple were first rumoured to be having problems
after various sources claimed that they were struggling to balance their work and home lives.
They later released a statement
saying: "We are committed to our relationship and [son] Ethan as always."
Smith has now told the
Herald Sun
that he is sick of his words being "twisted by others" but assured everyone: "Trust me, you don't need to worry about [Dannii]."
Last week,
he admitted that being with Minogue is "not necessarily easy"
because they both work "ridiculous hours". He added: "It's not the perfect world you'd like it to be, with both parents helping out."
Other reports have suggested that
Smith has become tired of being treated like a member of Minogue's "staff"
.