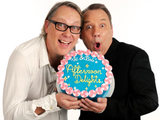 When Steve Coogan's return to
Alan Partridge in Mid-Morning Matters
was announced, we had mixed feelings. Yes, it was Partridge, edited by Armando Iannucci, featuring the great Tim Key, but why this was going straight on to the web? The proof of the pudding was in the watching though, because some of the series really was up there with the very best of the character. So, to the next Foster's Funny project -
Vic and Bob's Afternoon Delights
. Have Foster's managed to hit gold twice? You can make your own mind up on July 4 when the series premieres, but for now, here's our thoughts after last week's press screening and Q&A.
---
"It was just myself, Vic and a cameraman - on the afternoon we'd go fart about basically," Bob explains. "Some of them are just filmed in our offices, we're just making it up. The spirit of the thing was just to see if we could go out and do something funny."
Vic agrees: "There's a camera there and we turn up. You put a camera in front of us and we'll arse around. We've generally got a plug or a wig nearby and we'll turn into a character."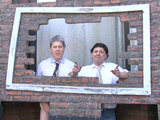 They're not exaggerating... there's a delightful lo-fi edge to all of this which makes it much more similar to homemade online comedy than the broadcast quality Partridge series. Some of the sketches fall flat on their under-prepared faces - the opening 'Free Runners' isn't our favourite. But during parts of 'The Shakamoto Investigation' and 'The Glassblowers' you can't help but laugh out loud.
Vic quips: "We're going back to roots! No high production, just genuine comedy. And we're doing it for Foster's, which is where we started off... We started off over
pints
of Foster's, which we enjoyed. That was the start of our comedy."
Ah, the Foster's question. Stewart Lee
famously mouthed off about the Foster's sponsorship
of the annual Edinburgh comedy prize and its ill-judged 'Comedy God' award.
In the press release for these sketches, Vic refers to the drink as a "very refreshing lager" and the quip doesn't really translate to paper. But is getting your stuff made with the support of a beer company any worse than having it cut, pasted and twisted by a major broadcaster? Probably not.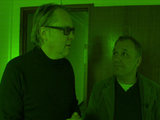 "They're not scripted things that we've done - we just thought that might be worth trying," Bob says. "I don't think there's anywhere else but here with Foster's that we could have done this. It's quite interesting to see whether it survives or not. This is genuinely just put out and us farting about."
Could they have just pitched these sketches at a national broadcaster? With next-to-zero production costs surely one of the biggies would have snapped them up for a minimal fee and chucked them out between other shows, or stitched them together for a one-off comedic blast?
But there's every chance that the Beeb, Channel 4 and Sky would have found this stuff too down-and-dirty. Bob claims that they wouldn't know either way. "To be honest with you, we've never tried. If you said to the BBC now, 'We've got a camera and there's no money in it' - I don't know."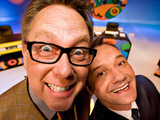 Comparing the sketches here to their video bits on BBC Two's
Shooting Stars
, Vic added: "This was a lot more freeform, and took us back, way back, to the way we used to do it on the
Big Night Out
. Freeform, free and easy, which is the way I like it - on stage at the old Hackney Empire..."
And that's why, despite not always hitting the mark,
Afternoon Delights
should still pick up an audience. People
will
be clicking 'Like' and retweeting their favourite sketches around the internet. This stuff is
so
rough around the edges that it doesn't feel like comedy that's been focus-grouped into existence. It's just two funny guys, larking about for the joy of it, and at times the humour is genuinely infectious.
Vic & Bob's Afternoon Delights is airing on www.fostersfunny.co.uk every weekday from the July 4 - 29
Watch Vic and Bob's classic
Master Chef
sketch below: