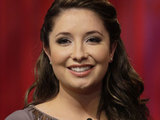 Bristol Palin
has described ex-boyfriend and father of her infant son Levi Johnston as "desperate for attention".
The 20-year-old, who recently
released her autobiography Not Afraid of Life: My Journey So Far
, claimed that her memoir will reveal the truth about their relationship while
Johnston's own forthcoming book
will be full of "lies".
Palin told
Extra
: "I think that people have seen how he acts in the media and what he says about our family and this was my turn to set the record straight.
"I think that he's gonna have to find a good screenwriter or something like that... to make up some good lies about us. But I'm not worried about it. I think he's desperate for a job and desperate for attention, and that's how he gets it, through lying."
Palin recently
revealed that she lost her virginity to Johnston while drunk on wine coolers
and insisted that she does not remember the incident.
She has claimed that
Johnston "stole" her virginity and called her teenage drinking a "foolish decision"
.