3
Showbiz News
Rebecca Black, Britney Spears top Twitter trends of 2011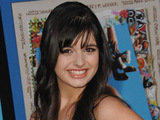 Rebecca Black
, Britney Spears' album
Femme Fatale
and Charlie Sheen were the top trending pop culture topics on
Twitter
in the first half of 2011.
Twitter's official blog revealed that the site's users now collectively send more than 200 million tweets every day, the equivalent of 8,163 copies of Leo Tolstoy's lengthy novel
War and Peace
.
The site has divided its top trending topics into two lists. The first displays world events and news, and is topped by AH1N1, the swine flu virus. Prince William and Kate Middleton are in ninth place.
However, the global
furore surrounding Rebecca Black's 'Friday'
propelled the 14-year-old singer to the top spot on Twitter's pop culture list.
Femme Fatale
came second, with Charlie Sheen in third and his famed #Tigerblood hashtag in fourth place.
The phrase 'Bieber Alert' ranked ninth, while 'Queen GaGa' rounded off the the top ten.
Twitter's top pop culture topics in 2011:
1.
Rebecca Black
2.
Femme Fatale
3.
Charlie Sheen
4.
#Tigerblood
5.
Nate Dogg
6.
Anderson Silva
7.
Tom & Jerry
8.
Mumford & Sons
9.
Bieber alert
10.
Queen GaGa
Watch the video for Britney Spears' 'I wanna Go', from the album
Femme Fatale
, below: