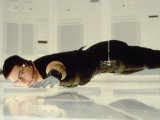 Top Hollywood producers have defended Tom Cruise against claims he has lost his attraction.
Comments from Ron Meyer, president of Universal Studios, esteemed producer Jerry Bruckheimer and Paramount Pictures' chairman Brad Grey follow speculation that the actor's odd behaviour has tainted his image.
After
Mission: Impossible III
opened to
disappointing
US ticket sales, a poll showed only 35 per cent of adults had a favourable opinion of Cruise, compared to 51 per cent unfavourable.
USA Today
reported that the star's popularity among women had also sharply declined.
Hollywood bigwigs disagree, however. "Tom Cruise is one of the most important stars ever in the motion picture business," said Meyer – a friend and ex-agent of Cruise. "I don't know anybody who has had the consistent success rate that Tom has. And nobody should be counting him out.
"He is clearly, on a profit basis as well as a creative basis, one of the biggest stars in the world."
Grey pointed to
M:i:III
's international sales as a mark of Cruise's strength. "If you do $118 million in a three-day period around the world, you're to be congratulated," he commented. "When the summer is over, you will see that audiences will have come out to see Tom and they'll be praising the picture and praising the work he's done."
Bruckheimer – who produced Cruise films
Top Gun
and
Days of Thunder
- added to the voices of support. "Tom's really a good guy – and the press and public can turn on people for God knows what reason," he said. "But I know what he really is – a warm-hearted, terrific individual. And he's a wonderful actor."