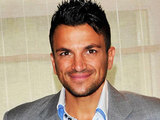 Peter Andre
has revealed that he wants to find the right woman but finds it difficult to trust.
The reality TV star - who has 6-year-old Junior and 4-year-old Princess Tiaamii with ex-wife Katie Price - said that it's difficult to settle down when he's constantly working.
He told
Now
: "I wish there was a woman in my life but I'm such a contradiction. Part of me wants to be with someone, part of me just can't commit.
"I'm a dad, I'm working all the time and after having my life ripped to pieces when my marriage ended, I've completely rebuilt everything and made a life for myself and my kids. Once you get used to being single, it's hard to let someone in. But I'd like to find that perfect woman."
The singer, who
split from Elen Rivas in April
, explained that he would never let his children see him be intimate with another woman unless he was sure they were going to marry.
He added: "Junior and Princess have never seen me in bed with another woman and it won't happen until I find the woman I'm going to marry. I don't want to confuse my kids.
"The other day my cousin Miranda, who helps out with the kids, was making my bed and Princess came in, put her hands on her hips and told her to get out of daddy's room because girls weren't allowed in there. It was very funny. My kids have never seen me be intimate with any woman other than their mother."
Andre recently
confessed that he works out so much because he doesn't stop eating
.
Listen to Peter Andre's new single 'Perfect Night' below: