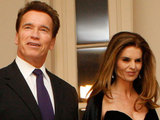 Arnold Schwarzenegger
's divorce settlement with estranged wife Maria Shriver will apparently allow him to keep possession of the family's Brentwood house.
Shriver filed for divorce
last week following Schwarzenegger's admission that
he fathered love child
with
a member of his household staff
.
Negotiations on a potential divorce settlement are "in the very beginning stages" but it is thought that Shriver will allow Schwarzenegger to keep the home where the couple raised their four children, a source told
TMZ
.
Divorce lawyers for both parties have reportedly settled very little else during initial negotiations, but talks are ongoing, the insider added.
The source also claimed that Schwarzenegger and Shriver signed no prenuptial agreement before their 1986 wedding so it's possible that the pair could split all shared property and financial assets equally.
Shriver could make a possible $15m if she decides to pen a tell-all book
about her divorce from Schwarzenegger, it has been reported.
> Arnold Schwarzenegger attends Austria energy meeting
> Arnold Schwarzenegger's mistress: 'He's a good man'