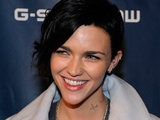 Ruby Rose
has revealed that she loves Bikram yoga.
The Australian model and television personality, who is best known for her roles on
Talking 'Bout Your Generation
and
The 7pm Project
, used her Twitter page to promote the style of yoga.
Bikram yoga is practised in a sauna-like room heated at 40 degrees.
Rose wrote: "I just took mum to Bikram yoga! Off to Sydney now! What a glorious feeling," later tweeting: "Bikram then a very big meeting then Sydney for two more! Then China for a few days."
In another message, she boasted that she was doing 180 minutes of yoga in one day, saying: "Bikram now then work then Syd then bikram again! (sic)"
Rose has also offered her fans the advice: "Never, I repeat NEVER choose the spot in Bikram in front of the heating vents!feel like I walked the desert for a month with one fiji water."
Australian model Megan Gale has previously credited Bikram with helping her to stay in shape, while Jennifer Aniston said that the form of exercise helped her legs get "leaner" and her arms become "strong".
Rose enjoyed a catch-up with Katy Perry
earlier this year during the
Teenage Dream
singer's visit to Australia. She also said that she was so
star-struck by singer Jessie J
that she had to try very hard not to "vomit".