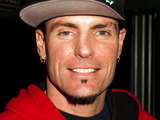 Vanilla Ice
has split from his wife Laura Giaritta.
The rapper, born Robert Van Winkle, is said to have moved out of his Florida home after allegedly learning that Giaritta had been cheating on him.
Giaritta confirmed that the two have separated, but denied reports that she was unfaithful.
"We've had problems for a very long time and Rob has moved out," she told the
National Enquirer
.
In August 2010, the rapper
announced plans to host an upcoming home improvement show titled The Vanilla Ice Project
. He recently insisted that
the programme is "real" and "has content"
.
Vanilla Ice
was approached in April to star in Adam Sandler's forthcoming comedy I Hate You Dad
. The 43-year-old will play a gay wedding planner named Antonio.
The rapper also recently confessed
that he nearly went "crazy" in the 1990s following the success of his hit single 'Ice Ice Baby'
, claiming that the pressures of the industry pushed him to the edge of having a nervous breakdown.