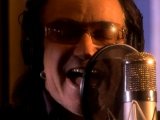 U2 singer Bono has launched a new mobile phone that will raise money for AIDS victims in Africa.
The handset is made by Motorola and will cost £149. For every phone sold, Motorola will donate £10 to the singer's Red Global Fund. On top of this, 5% of each user's phone bill will also be donated.
Bono said the idea for the phone came from the founder of the Carphone Warehouse, Charles Dunstone, and at first he thought it was an unrealistic target:
"I thought it was the maddest idea, I thought 'there's hope for the Middle East peace process if we can pull this off. It is 21st century technology being made to work against one of the great three curses of the 21st century - the biggest health pandemic in 600 years."