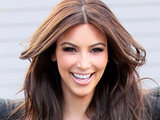 Kim Kardashian
is reportedly planning to sue retailer Old Navy for using a look-a-like model in a recent ad campaign.
Kardashian's legal team will apparently claim that Old Navy enlisted Melissa Molinaro, who bears a resemblance to the reality star, to mislead viewers into believing that the
Kourtney and Kim Take New York
star endorses their brand.
Old Navy also reportedly upset Kardashian by sending a series of tweets about the campaign to her official account, including one message posted in early 2011 which read: "@CBSNEWS reports that Old Navy's Super CUTE star looks like @kimkardashian. #LOL. What do you think?"
Lawyers for Kardashian are currently drafting the lawsuit and will seek as much as $20m (£12.3) in damages, reports
TMZ
.
Watch the Old Navy commercial featuring Melissa Molinaro below:
The Old Navy commercial's star
Molinaro has also been linked to Kardashian's former boyfriend Reggie Bush
, after being spotted on several dates with the New Orleans Saints halfback in recent months.
Kris Jenner previously revealed that
she plans to get a facelift
before daughter
Kim ties the knot with fiancé Kris Humphries
.
Khloe Kardashian's husband
Lamar Odom was involved in a car accident
on Sunday, which
took the life of a 15-year-old boy
.
> Khloe Kardashian, Lamar Odom tweet condolences to family of car crash victim
> Kourtney Kardashian's brother Rob 'won't visit her'