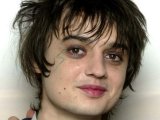 Pete Doherty has enraged his bandmates and a television crew with a shocking move.
The Babyshambles frontman has squirted a syringe of his own blood at two cameramen, during an interview with
MTV News
.
The incident came just minutes after Doherty had injected himself with heroin, and left the crew with thousands of pounds worth of equipment to sterilise, as well as worrying over possible infection.
The band's bassist, Drew McConnell, stormed out of the room after telling the crew: "I think the interview is over my friend. I'm really sorry about that mate, that's ****ed up."