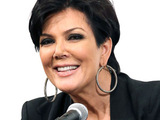 Kris Jenner
has said that her recent facelift was a necessary part of her preparation for daughter Kim Kardashian's forthcoming wedding to Kris Humphries.
The
Keeping Up With The Kardashians
star appeared with husband Bruce on CBS daytime chatshow
The Talk
on Thursday, where she was complimented by co-host Sharon Osbourne on her youthful glow.
"I needed a little freshening up for the wedding," Jenner explained. "Just doing what a girl's gotta do!"
Jenner
went under the knife earlier this month, with the whole procedure being documented by camera crews to be broadcast on Keeping Up With The Kardashians
.
Daughter Khloe Kardashian praised her mother's decision following the procedure, saying: "She looks amazing. They say you are supposed to have a lot of swelling for a week or so after, but I didn't notice."
Jenner is
said to be doing much of the planning for Kim's upcoming wedding
, which will
reportedly take place on August 20 in California
.