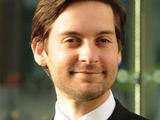 Tobey Maguire
has been ordered to appear in court to answer charges resulting from his participation in an illegal gambling ring.
The actor was
named in a lawsuit last month for playing unlicensed poker with convicted fraudster Bradley Ruderman
.
Maguire's lawyer later
denied the accusations on his behalf
, insisting that the
Spider-Man
star had no idea that the gaming was illegal.
While he has admitted to having earned $187,000 (£116,600) in winnings from the games, he has
claimed that he should not have to return his winnings as he suffered a loss at Ruderman's hands
.
Per documents filed in the US Bankruptcy Court in Los Angeles on Monday and obtained by
E Online
, Maguire and prosecutors have been given until November 30 to prepare their cases.
They must then appear at a trial scheduled for the week of January 30, 2012.
Maguire will soon
produce an adaptation of The Little Mermaid
that centres on a princess's battle to save her kingdom and win the heart of her prince.