Showbiz News
Audrey Tautou already fed up with fame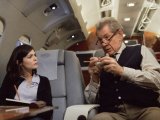 Audrey Tautou has complained that making
The Da Vinci Code
has left her fed up with fame.
The previously little-known actress said starring in a blockbuster has even prompted her to consider a career change.
"When I started acting, I had the idea that I would continue until I'm 40," said the French 27-year-old. "Now, after doing
The Da Vinci Code
, I'm probably ready to quit at 30.
"I know I'm not the best actress in the world and not the worst but I think that maybe I'd be happier doing something that doesn't leave me so exposed."