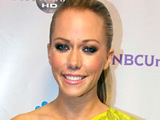 Kendra Wilkinson has slammed
Crystal Harris
for the way she has handled her recent split from former fiancé Hugh Hefner.
Harris and Hefner
called off their wedding
just days before they were due down to walk down the aisle in June when Harris experienced a "change of heart".
Talking to
People
, Wilkinson described Harris as "cruel" for comments she has made about Hefner following the break-up - including her
recent claims that she was not turned on by the 85-year-old
and that he was not a good sexual partner.
"Her situation is a lot more harsh. She was about to get married to him. I would have never agreed to get married to him," Wilkinson said, referring to her own past relationship with the
Playboy
founder.
"We both knew our place. He knew that we were friends. I knew that we were friends. But to [plan to] get married and then be a backstabber to someone like that - to take it to that level and then go and backstab, that's, like, cruel, you know?"
Hefner previously
insisted that he had "dodged a bullet" by not marrying Harris and that he believes that he should remain single
.
He has
refused to retaliate against the 25-year-old over her comments regarding his sexual performance
.