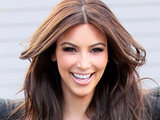 Kim Kardashian
has admitted that she turned down many of her mother Kris Jenner's suggestions on who to invite to her upcoming wedding.
Kardashian
will marry fiance Kris Humphries in a California ceremony on August 20
, an event that Jenner
largely helped to plan
.
Talking to
Extra
, the 30-year-old revealed that her mother initially wanted to invite over 500 people to the wedding, despite the fact that many of them were people that she didn't know.
"I'll look at the list and I'll be like, 'Why is this person on the list? Why is this person? I don't know this person. This is your friend'. This is my wedding. I gotta approve the list!" Kardashian said.
Jenner, who
recently underwent plastic surgery in preparation for her daughter's big day
, admitted to being a "control freak", telling the website: "[I'm] kind of a momzilla. Yeah, I'd have to admit that. I'm a little... I get really excited. "
She has
promised that the wedding will have "lots of surprises"
that no one will be expecting.
Kardashian
revealed this week that she flew from Los Angeles to New York for only three hours
in order to attend a final fitting of her wedding gown.