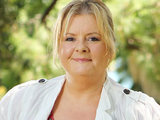 Magda Szubanski
has agreed to front a new sports campaign, it has been reported.
The Australian comedienne, who is best known for her role as Sharon Strzelecki on
Kath and Kim
, is thought to have filmed a commercial for an unnamed new Fox Sports campaign last week.
The shoot took place around the same time that Szubanski announced that she would no
longer be the face of weight loss company
Jenny Craig. According to
The Daily Telegraph
, the actress was pictured alongside sports commentator Gerard Healy in comical exercise positions for the advert.
Szubanski
lost 25kg
during her time with Jenny Craig. She has
since said
: "I strongly believe that if you don't have your health, you don't have anything. The whole thing for me about losing weight is, yes, you can wear fantastic clothes but it really is about health, improving your fitness and your enjoyment of life."
It was revealed yesterday that
former MasterChef winner
Julie Goodwin
turned down the opportunity
to replace Szubanski as the weight loss ambassador.
Goodwin explained: "I don't want to be thin. I don't want to be anything different to who I am. I think people have been really willing to embrace me for who I am."
Instead,
Bridesmaids
actress Rebel Wilson has taken on the role. Szubanski told her successor: "I wish Rebel Wilson health and happiness. Go girl."