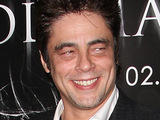 Kimberly Stewart has given birth to her and
Benicio Del Toro
's first child.
A rep for Del Toro confirmed that the actor welcomed a baby daughter on Sunday, reports
Us Weekly
.
The baby has not yet been named, but Del Toro's spokesperson said the girl weighs 8lbs 9oz.
Kimberly's parents, singer Rod and his ex-wife Alana, were reportedly present at the LA hospital for the birth.
Del Toro's rep first confirmed that
he was expecting a child with Kimberly in April
, but stressed that the two are not "a couple".
'Maggie May' singer
Rod later declared he was excited for the arrival of his first granddaughter
, insisting in May: "It's going to be good."
> Benicio del Toro's Wolfman to get second remake
Watch Benicio Del Toro in the
Wolfman
trailer: