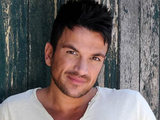 Peter Andre
has insisted that he is not ready to commit to a new relationship.
The 'Perfect Night' singer denied that he and his close friend Angela Mogridge are dating, writing in his
New
magazine column that she has returned home to Australia from her visit to the UK.
"People keep asking me what's going on between us but nothing's changed. She's still seeing someone back in Oz and nothing's happened between us while she's been over," he said.
"She still lives overseas but we're going into business together, which means she'll be over here a lot more."
Andre continued: "To be honest, I'm still not ready to commit to anyone properly. I was seeing a wonderful girl recently but, again, I wasn't ready to get into a proper relationship.
"I tend to date people who are already my friends, so they know the situation. It's a real case of 'once bitten, twice shy' with me."
The 37-year-old, who was previously married to Katie Price, concluded that he is allowed to have female friends "who are hot".
> Peter Andre dismisses "nonsense" Elen Rivas press
> Peter Andre confirms reality show filming "very soon"
Listen to Peter Andre's 'Perfect Night' below: