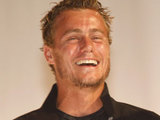 Lleyton Hewitt
is reportedly caught up in a family feud.
The Australian tennis star, who is married to former
Home and Away
actress Bec, left his sister Jaslyn feeling "alone" and "frustrated" at her recent wedding to Logie-nominated writer and comedian Rob Shehadie after saying that he was unable to attend due to a scheduling conflict.
According to
Woman's Day
magazine, Lleyton and Jaslyn's parents Glynn and Cherilyn also chose not to attend their 28-year-old daughter's nuptials because they are against her relationship with Shehadie.
A guest at the North Queensland ceremony told the magazine: "You couldn't help feeling frustrated for Jaslyn. She and Rob are so in love and had wanted their wedding to be a reflection of their amazing chemistry, the perfect day.
"And it was - except for the absence of the bride's family. Not having Glynn and Cherilyn there was crushing for Jaslyn, even though she was pretty good at hiding the fact that she was upset."
The source continued: "She's a cool, understated person, so she handled the hurt by smiling all day and... night, despite the difficult moments. It was brave. She must have felt so alone and that really seems unfair, because she's always been the most supportive daughter and sister through all the years in Lleyton's shadow."
> Bec Hewitt: 'The kids are growing so quickly'
> Lleyton and Bec Hewitt explain baby daughter's name
A tennis insider said that Lleyton still "adores" his sister and "appreciates" her support to him throughout his career and her role as an "ally" to Bec, but his manager refused to comment on the reports.
Friends recently confirmed that Jaslyn is expecting her first child with Shehadie early next year and is thought to be hoping that the baby could bring the family back together. Lleyton and Bec are parents to daughters Mia
and Ava
and son Cruz.