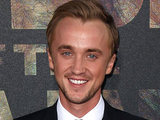 Tom Felton
has called on his fans to donate money to a cancer charity.
The
Harry Potter
actor took to Twitter to raise funds to help pay for 5-year-old Jack Marshall's cancer treatment.
Marshall was diagnosed with a brain tumour just after he started school and was forced to undergo debilitating chemotherapy.
The intensive chemotherapy sessions have left the boy with some permanent brain damage.
Felton encouraged "anyone who can possibly help" to contribute to the Jack Marshall Brain Tumour Fund, which will raise awareness of childhood cancer as well as fund the boy's continuing treatment.
Earlier this month, Felton admitted that
he fears being typecast because of his involvement in the Harry Potter films
.
> Tom Felton: 'Rise of the Planet of the Apes has strong message'
Listen to
Tom Felton's new single 'Hawaii'
below: