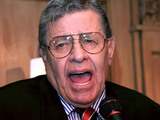 Dave Chappelle and Norm Crosby will hold a webathon to honour fellow comic and muscular dystrophy advocate
Jerry Lewis
later today.
Lewis and the Muscular Dystrophy Association recently ended their working relationship
after holding fundraising telethons together for more than 40 years.
Jamie Masada, owner of the Laugh Factory comedy club, joined several comedians in
protesting Lewis's exit from MDA
last month and has now organised an all-star tribute to the comedian.
Fans will able to watch the webathon online and donate money to fight muscular dystrophy.
Masada said that he planned for the webathons to be an annual event until a cure for the disease is found, reports
The AP
.
Nigel Lythgoe and Alison Sweeney replaced Lewis as hosts of the 2011 MDA Telethon, which
raised more than $61m on Sunday
.
> Jerry Lewis: 'American Idol contestants are McDonald's wipeouts'
Watch a clip from Jerry Lewis's final MDA telethon in 2010 below: