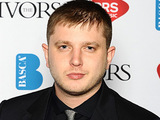 Plan B
has confessed that he used to be "obsessed" with the
Championship Manager
computer game.
The
Defamation of Strickland Banks
star, born Ben Drew, told
Askmen.com
that the game took over his life to the point that he nearly dropped out of college.
"I was addicted to it like it was cocaine. I didn't come out of my house. My friends would ring up and I'd ignore their calls," Plan B remembered.
"They'd knock at my door and I'd say I was really ill just so I could play my game and have no interruptions. I'd miss days of college to play that damn game. It is so f**king sad to hear myself say that. But I love that game."
Plan B also revealed that he would love to own his own football team one day in real life, adding: "I love football and, if I'm destined to be a billionaire with loads of money, what am I going to do with that money? I'd love to invest it in a s**t little football club and take them up to the Premier League."
> Plan B: 'Parents will hate new album The Ballad of Belmarsh'
Watch Plan B perform 'She Said' at Glastonbury 2011 below: