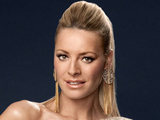 Tess Daly
has revealed that she does not plan to have any more children with husband Vernon Kay.
The
Strictly Come Dancing
host, who already has daughters Phoebe, six, and 2-year-old Amber with Kay, feared that she would be left house-bound by the arrival of another little one.
"We've just about potty-trained Amber now," she told
The Mirror
. "It's such a relief from nappies and having to take a rucksack everywhere you go. When you're rid of that, you breathe a big sigh of relief.
"I am happy with my two girls. If I had another one I'd feel like I'd never leave the house again. Those two came along without any planning, so I'm very much in the mind of what will be will be. But I've got my two girls and I'm more than happy with them."
Daly went on to claim that she finds her
Family Fortunes
partner more attractive than ever after eight years of marriage, due in part to his impressive new physique.
"He's put on lots of weight and he's got loads of new muscles," she revealed. "He looks great, actually, and he's fitter than he was in his 20s. He's fitter than he's ever been."
Daly revealed that she
forgave Kay for his sex text scandal
last year for
the sake of their children
.