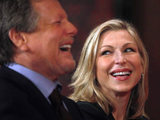 Ryan O'Neal and the late Farrah Fawcett's son Redmond has been jailed once again after he was caught using drugs in court-ordered rehab.
Redmond was sentenced to one year in a treatment centre
last month after pleading no contest to drugs and weapons charges.
Redmond
had been arrested on August 3
, when police found heroin in his car and a loaded weapon in his home. He is barred from owning weapons under the terms of his probation for a separate drug arrest.
The 26-year-old was taken into custody again this week after workers at the rehab centre discovered that he'd been using a methamphetamine in the facility, according to
CNN
.
Redmond will be jailed at least until an October 7 hearing, when a judge will decide whether he should remain behind bars or return to rehab.
In August 2010,
two separate drug charges against Redmond were dropped
after he completed a stay in a drug diversion centre.
> Ryan O'Neal: 'Tatum O'Neal and I only reconciled for reality series'
> Ryan O'Neal son Griffin injured in car crash