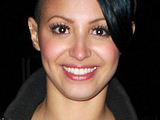 Amelle Berrabah
has dismissed claims that she has an eating disorder, and says that if anything she eats "too much".
The Sugababes member revealed that she often snacks and that she eats much more than her two bandmates Heidi Range and Jade Ewen.
"There's no way I don't eat enough," she told the
Daily Star
. "If people talk about my weight, I'm not even aware of it. I think I do have an eating problem to be honest but it's snacking too much.
"I eat loads, probably the most out of the three of us in the band."
Berrabah added that she doesn't believe rival group Girls Aloud will
reunite next year for their tenth anniversary
.
"I know they keep saying it but I'll believe it when I see it. I hope they do though," she said.
Amelle Berrabah was
convicted of assault
earlier this month after attacking Danielle Dodoo and threatening to bite off her nose.
> Amelle Berrabah should be kicked out of the Sugababes, says attack victim