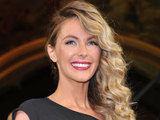 Jennifer Hawkins has revealed that she is very "happy".
The 27-year-old Australian supermodel, who got
engaged to builder
Jake Wall
at the beginning of this year, said that she looks good at the moment because she is in a happy relationship and takes care of her body.
Hawkins told
Woman's Day
magazine: "I'm having fun with my partner, I'm happy. There's a certain spark we have and it just feels right.
"Health comes from the inside. It starts with what you eat and how you exercise... basically, it's your entire lifestyle. Living healthily inside is how you get a glow on the outside. If I put in the work, I see the results. If I don't, I feel frumpy."
Hawkins said that her toned figure is thanks to boxing, weight training, Pilates, yoga and beach walking. She also said that she takes zinc tablets, drinks liquid chlorophyll and looks after her complexion.
"When I was younger I didn't do anything to my skin," she admitted. "Now I have so much contact with make-up artists, it gives me the opportunity to ask loads of questions."
Hawkins was recently accused of
having plastic surgery
by Miss Universe Australia star Scherri-Lee Biggs. Biggs later took back her comments and
apologised to Hawkins
, saying: "I think Jen's an amazing, beautiful woman and I look up to her. I feel horrible."
> Jennifer Hawkins 'quits drinking to lose weight'
> Jennifer Hawkins: 'I don't worry about critics'