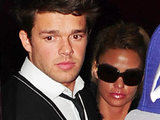 Katie Price
has split from her model boyfriend Leandro Penna.
The pair are said to have used an interpreter to end the relationship over the phone earlier this week, and both blamed the language barrier for the split.
A source told the
Sunday Mirror
: "It's over. The truth is Leandro was homesick and felt isolated being in the UK without any of his friends or family. He also wasn't working at all and was just under Katie's feet as she ­carried on with her life and career.
"He decided it would be a good idea to return to Argentina and see his family, and try to get work. She agreed it was probably for the best. He doesn't speak good English, she's been busy on book and magazine ­signings across the country and he's bored out of his mind.
"He's bored with living in the shadow and wants to find work and make a life for himself. Katie knew in her heart that it was coming. She's being very adult about the split and says she didn't see it as a long-term relationship that would lead to marriage and kids."
Price's management team confirmed the split via a statement on Twitter.
"Kate has had a franticly (sic) busy couple of years professionally and her personal life has had some highs and lows," the representative wrote.
"Leo has been fantastic but Kate felt she needed some time to herself and Leo was keen for some time to focus on his career.
"Kate has recently discovered who was responsible for a campaign of malicious and false accusations being provided to the press, and for the sake of her family (especially her children) wants to deal with this so she can draw a line under the past before moving forward.
"Kate remains on good terms with Leo, there has been no falling out and there is no bitterness. They are talking daily and and they plan to meet and talk further soon."
The news comes just days after Penna, who
met Price at Sir Elton John's post-Oscars party
in Los Angeles,
revealed his intentions to marry the former glamour model
.
Price recently
predicted that her marriage to Peter Andre "would have lasted"
without the presence of TV cameras.