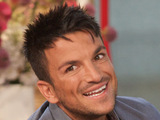 Peter Andre
has confirmed that he is dating one of his backing dancers, but admitted that he still has commitment issues.
The singer split from girlfriend Elen Rivas earlier this year,
saying he could not spend time with the Spanish model due to his busy schedule
. Reports recently linked him to dancer Kristina MacMillan.
Writing in his
New
magazine column, he said: "I can confirm that this is true. Kristina and I have been friends for over a year and we've always got on really well.
"She was with someone else until June and nothing happened between us until after that, but we've always been close and always really liked each other. She's awesome but we're not an official item as she's just come out of a relationship and, as we all know, I have commitment issues!"
Talking about MacMillan, the 38-year-old continued: "We hang out a lot and get on great, though - she's so cool and funny. So who knows what could happen in the future. She's from Manchester and, I must admit, I'm a sucker for a Northern accent!
"Junior loves her, too, although he's only ever met her as part of a group of friends. It's still true to say I've only ever been affectionate with one woman in front of the kids - and that was their mother [Katie Price]."
> Peter Andre: 'Katie Price knows real reason for marriage failure'